This article is about the television series. Did you mean the pilot or the vehicle and setting?
Infinity Train is a Cartoon Network animated series created by Owen Dennis about a young girl named Tulip and her friends, One-One and Atticus, traversing through a seemingly infinite train with unlimited possibilities in order to find her way home.
The pilot episode was first shown on November 2, 2016, on Cartoon Network's YouTube channel. The pilot's popularity ultimately lead to Cartoon Network airing the pilot on television on February 11, 2017.[1]
On March 2, 2018, Cartoon Network launched a teaser on their official website confirming that Season 1 of the show will launch in 2019.[2]
In July 2019, the show was confirmed for an August 5, 2019 debut[3] and the first episode was released early on Cartoon Network's website. The week-long airing was promoted as a miniseries, only for the surprise reveal immediately following the final episode that the series would return.
On November 22, 2019, the official Infinity Train website was updated with a new claw machine puzzle. Completing the puzzle leads to a trailer for Season 2.[4]
On July 6, 2020, it was announced that Season 3 will be released exclusively on HBO Max.[5]
On February 17th, 2021, Season 4 was formally revealed through HBO Max's Twitter.[6] It was promoted as the final season due to the show not being renewed, although the crew has supported fan efforts to demand more seasons.
Conceptualization
Infinity Train was first imagined by Dennis in 2010 while riding a plane home to the United States from China. Initially, he wondered what would happen should a girl be trapped on a plane, but eventually discarded the idea, stating "there wasn't really a lot to explore if [the setting] is a plane."[7]
He later changed the setting to a train.[7] According to Dennis, not much else about Infinity Train's origin can be revealed due to it containing heavy spoilers for the series itself.[7]
Dennis pitched the idea of the series to Cartoon Network in January 2014.[8] Upon the initial pitch, Cartoon Network executives feared that the series would be too similar to Over the Garden Wall, then referred to as Tome of the Unknown.[9]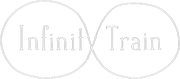 Eventually, the two shows were deemed different enough, and Dennis received permission to create a pilot. The pilot went into production around 2015.[8] The initial concept did receive edits and changes when Dennis viewed the completed version of Over the Garden Wall, however.[9]
Additionally, Dennis often held other fears about Infinity Train's similarities to other media when it was first created, citing films Snowpiercer and Galaxy Express 999 that came out later in the year.
Within the network itself, fellow Cartoon Network storyboard artist Cole Sanchez told Dennis that Adventure Time had created an episode featuring a train with infinity symbols on it, which caused Dennis's "stomach to turn."[9] He eventually overcame these fears, stating "There are certain ideas just... sitting there, plucked up by anyone who feels like they wanna do something with it. The most you can do is just keep making the thing you're trying to make with the voice you want to make it in."[9]
Episodes
Book
Name
Episodes
Originally aired
Network
First aired
Last aired
Pilot
February 11, 2017
1
The Perennial Child
10
August 5, 2019
August 9, 2019
Cartoon Network
Shorts
The Train Documentaries
10
October 19, 2019
November 16, 2019
2
Cracked Reflection
10
January 6, 2020
January 10, 2020
Cartoon Network
3
Cult of the Conductor
10
August 13, 2020
August 27, 2020
HBO Max
4
Duet
10
April 15, 2021
Videos
Trivia
The initial idea of the show came from Owen's experiences while traveling on a plane.
Owen Dennis has stated that Cartoon Network executives are "allowing us to do some things content-wise that other shows might not normally be able to do, simply because Infinity Train already has a fanbase."[10]
Unusual for a cartoon, Infinity Train's voiceovers are mostly recorded in group sessions, with as much of the cast and guest actors for an episode recording in the same booth.[11]
Owen has previously revealed hints unfinished projects which include concepts of seasons, a short, two games.
The main reason why the pilot was picked up is because after the MeToo movement Cartoon Network realized they needed more female protagonists. Before the movement Owen Dennis was told his pilot might not get picked up because his main character, Tulip, is a girl. [12]
References
,