"Tulip, every now and then there are things you just can't know."


Please remove this template once the page has over 1000 bytes! Thank You!

Dumpty's Diner is a Canadian diner chain.
Description
Dumpty's Diner is an 80's styled diner with a mascot of Humpty Dumpty with a crown.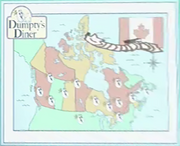 According to their store location map, Dumpty's has three locations in British Columbia, one in Saskatchewan, one in Manitoba, three in Ontario, three in Quebec, one in Newfoundland and Labrador, and one in the United States (possibly North Dakota).
History
Min-Gi Park was a shift manager at a Dumpty's Diner in British Columbia, and gained the position of employee of the month.