"

Welcome, Tulip the Literate, to Corginia!

"
—Atticus welcoming Tulip to Corginia, his land.
Corginia[1] is a corgi-inhabited train car featured in the pilot and the Book One episode "The Corgi Car". It is an extremely expansive car, with an impossibly small exterior.
Description

The car is populated by Cardigan Welsh Corgis and Pembroke Welsh Corgis, who are ruled and united by Atticus. According to Tulip, there are food dispensers (as shown in the background) and cattle to herd. An activity mentioned and shown in the pilot is sunbathing, with specific sunbeams scattered throughout the car (as Atticus pointed out). Belly-rub machines are also mentioned. A week prior to the events of the pilot, a so-called "shadow monster" broke the water pipe, causing the water level to rise, as well as destroy some of their mechanisms (specifically the belly-rub machines).
Appearance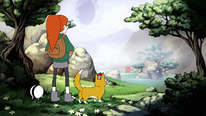 Corginia is a lush landscape of sparsely-flowered meadows and a river flowing through it. A village the corgis inhabit is located near the entrance to the car, consisting of buildings reminiscent of ancient Greek. The weather appears sunny and slightly clouded, even with no visible light source or open sky.
A mountain range opens up beyond the river and is slightly more overgrown and wild. Prior to the beginning of the show, an unknown object crashed into the left side of the train, near the end of the car, leaving behind a crater and exposing the machinery, as well as a large impact hole in the wall of the car.
The car also appears in the series release of the show, with some difference to the damage as The Steward is seemingly collecting Orbs for the Conductor, inadvertently causing the flooding.
Trivia
Corginia was inspired by the pet corgi Owen Dennis had when he was growing up.
All the corgis in Corginia can speak, just like Atticus.[2]
Videos
References